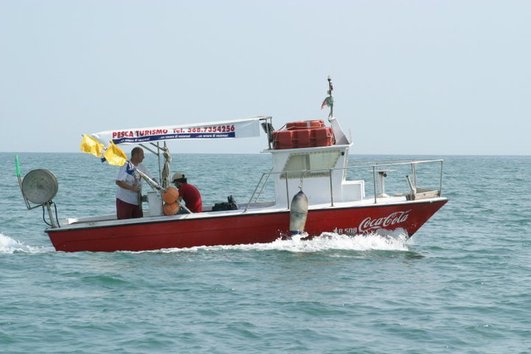 What is ITTITURISMO?

Ittiturismo is an activity wich give you the chance to live directly with the sea and the seaman participating at the fishing activities and everything about the human and ambient universe made of rhythm, traditions, respect, passion, hard work…

Have a journey in an Ittiturismo give you the chance of:
- Live in a fisher-man house
- Partecipate at the fishing operations
- Taste the products of a fishing day in a comfortable place near the sea
- Discover the mainland with its beautiful landscape and also cultural and artisan traditions

The real richness of an Ittiturismo holiday is the people genuineness and passion, the freshness of products, and the beauty of the uncontaminated places.
Have a holiday in an Ittiturismo means treat oneself a world of knowledge about the fishing and the sea traditions through a direct experience made of actions and memories, places and remembers..
If are you looking for something very special journey at the sea, you found it! 

L' ittiturismo "Il vecchio e il mare" is born by the fisherman love, Elvio, to the sea. His life had been linked to the sea and its natural resources; he works at the fishing since he was a boy, respecting the natural rules. Following the time evolution, he linked his passion with the tourism-fishing first (1995) and with the ittiturismo after (2005).

On tthis way borned the idea of a place where the tourist could live the sea with the eye of who live it from a lot of time.

L' ittiturismo "IL VECCHIO E IL MARE "is an answer for who love to live the holidays in an only place: you could sleep with the sound of waves and wake up at the daylight with the seagulls.
If at the end of the day at the beach, you would like to taste a local sea meal, Elvio the seaman, will cook it for you, and you could eat it in the balcony of your house, alone or with your friends.
Moreover, if you want to have a day out with the boat feeling the fishing emotions, Elvio will let you live an exclusive and enthusiastic experience: the shoot down nets at the sunset, and the haul in the nets at the daylight, and…finally, the picked fish.

---
Situated nearby the center of Grottammare, a splendid sea city and S.Benedetto del Tronto , the famous "Riviera delle Palme".
You can easly move around the cuty throught the cycle way, with our free of charge bicycles.